At All Kids Dental Pediatrics & Orthodontics, we are dedicated to providing you and your family with high-quality orthodontics. We offer several types of orthodontic treatment to meet all of your family's needs and goals. We offer two main types of orthodontic treatment:
---
Braces (Damon™ System)
Braces are the most common type of orthodontic treatment. Braces use brackets and wires to apply gentle, constant pressure to the teeth, gradually moving them to their correct positions. Whether you are a child, a teenager, or an adult, braces are a great choice for straightening your teeth and achieving the healthy, beautiful smile you deserve. We use the Damon® braces system for quality results and comfortable treatment. Dr. Casey Johnson provides both metal and clear braces to accommodate all of your desires.
---

---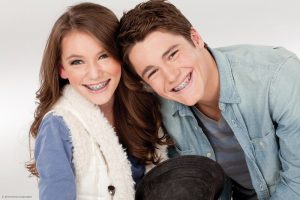 We are committed to providing you and your children with the best possible orthodontic care. We are pleased to provide Damon® braces. Damon braces utilize several cutting-edge developments in orthodontic treatment to make your treatment more comfortable and efficient. Damon braces do not require the use of any elastic or metal ties, and Dr. Johnson will not need to tighten your braces. The Damon system also uses a special type of high-technology, shape-memory wire that helps your teeth move faster and requires fewer adjustments. In addition, the Damon braces system is designed with your overall facial results in mind, ensuring that you achieve the attractive results you deserve. With Damon braces, you can straighten your teeth and enhance your facial aesthetics most often without requiring tooth extractions or rapid palatal expanders.
Damon braces are comfortable, discreet, and easy to keep clean. The elastic ties used for other types of braces can attract and collect plaque; with our special tie-less brackets, dental hygiene is simple and effective. We offer both metal and clear brackets to accommodate all of our patients' needs. Damon braces are an excellent choice for children, teenagers, and adults. For more information on Damon braces, we invite you to contact us soon at All Kids Dental Pediatrics & Orthodontics.
---
Damon™ System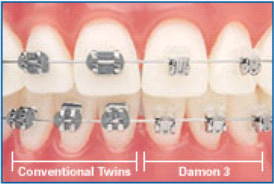 The Damon™ System provides superior comfort while gently stimulating healthy tooth movement. Low forces are used throughout all phases of the treatment with this completely "passive appliance system."
This system consists of a unique passive channel that permits low forces to work in conjunction with the muscles of the face, tongue, bone and tissue. The bracket utilizes a specialized "frictionless" clip to hold the wire instead of rubber ties which produce friction and require heavier forces to move the teeth. Low forces minimize discomfort and greatly increase the types of cases that can be treated without resorting to high force expansion or extractions.
The Damon™ System produces significantly less friction than conventional appliances and less discomfort with quicker results. So, you may have fewer office visits – perhaps half as many as with traditional systems.
---
Invisalign®
Invisalign uses a series of clear, smooth plastic aligners to gently straighten your teeth. You will change aligners approximately every one to two weeks to continue straightening your teeth. Invisalign may be right for you if you are interested in a more discreet orthodontic treatment choice.
---
What is Insignia™?
Insignia is a specialized orthodontic treatment system that takes into account your unique smile. With Insignia, your braces and orthodontic treatment are tailored to match your unique needs and goals. The first step of the Insignia process is to meet with Dr. Johnson for a consultation. He will carefully examine your smile and take 3D scan of your teeth for the Insignia smile design lab. Using these 3D scans and state-of-the-art imaging software, we will then create a three-dimensional representation of your bite and fabricate custom braces and wires to fit your exact smile.
What are the benefits of Insignia orthodontics?
Because Insignia orthodontic treatment is designed to fit your smile, you will need fewer visits to our dental office and your treatment time will be shorter. Insignia treatment is also exceptionally comfortable.
Do I need Insignia orthodontics?
We are pleased to provide Insignia for patients of all ages, including children, teenagers, and adults. Insignia results are fast, accurate, and predictable. We are proud to utilize the latest technology and techniques to give you the smile of your dreams faster and more comfortably. We welcome you to call or visit us at All Kids Dental Pediatrics & Orthodontics today to learn more!
---
Types of Treatment
What is Phase 1 Treatment?
Phase 1 Treatment is the early treatment that is performed before all permanent teeth have erupted. Early orthodontic care is used to start to correct harmful malocclusions that may be more difficult to correct later. Keep in mind that Phase 1 Treatment does not eliminate the need for orthodontic treatment performed during adolescence. Phase 1 Treatment includes: correcting jaw crossbites; correcting severe underbites and overbites where function, aesthetic, or psychological concerns are recognized; and correcting individual tooth crossbites.
What is Phase 2 Treatment?
Phase 2 Treatment is conventional orthodontic treatment. This phase of treatment may begin while the last primary teeth are falling out and last until the 12-year molars have been evaluated or straightened. This treatment tends to last between 1 ½ and 2 years.
How do I know if Phase 1, 2, or both types of treatment is necessary?
Bring your child in for their first visit around age 7-8. About 10 to 20 percent of children may benefit from Phase 1 Treatment. Usually, other patients are observed until the appropriate time to begin care.
---
We welcome you to call or visit us today to learn more about our orthodontic treatment types and options. We look forward to enhancing your smile!