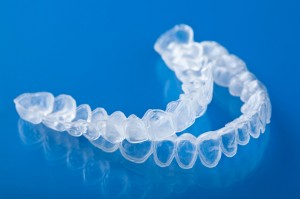 Invisalign is a modern, innovative way to achieve the smile of your dreams. Rather than using metal brackets and wires to adjust your tooth alignment, Invisalign uses a series of clear, smooth plastic aligners to move your teeth to their proper positions. Sometimes referred to as "invisible braces," Invisalign aligners are very discreet and barely noticeable. With Invisalign, no one needs to know that you are straightening your teeth!
Do I need Invisalign?
Our caring dentists, Dr. Johnson, Dr. Burt, and Dr. Allen, may recommend Invisalign if you are interested in discreetly straightening your teeth. Invisalign can be used to effectively treat a number of orthodontic problems, including:
Bite problems, such as overbite, open bite, crossbite, and underbite
Overcrowded teeth
Misaligned (crooked) teeth
Gapped teeth
What are the advantages of Invisalign orthodontics?
Invisalign treatment may be even faster than traditional orthodontic treatment, and the smooth plastic aligners are very comfortable. Invisalign aligners are removable, allowing you to eat, drink, floss, and brush as normal. You will not need to worry about avoiding foods that may damage traditional metal braces. With Invisalign, orthodontic treatment can be comfortable, easy, and nearly invisible!
We welcome you to contact us today at All Kids Dental Pediatrics & Orthodontics to learn more about Invisalign in Aspen, Glenwood Springs, Colorado.