---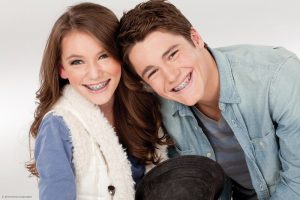 We are committed to providing you and your children with the best possible orthodontic care. We are pleased to provide Damon® braces in Aspen, Glenwood Springs, Colorado. Damon braces utilize several cutting-edge developments in orthodontic treatment to make your treatment more comfortable and efficient. Damon braces do not require the use of any elastic or metal ties, and our dentists will not need to tighten your braces. The Damon system also uses a special type of high-technology, shape-memory wire that helps your teeth move faster and requires fewer adjustments. In addition, the Damon braces system is designed with your overall facial results in mind, ensuring that you achieve the attractive results you deserve. With Damon braces, you can straighten your teeth and enhance your facial aesthetics without requiring tooth extractions or rapid palatal expanders.
Damon braces are comfortable, discreet, and easy to keep clean. The elastic ties used for other types of braces can attract and collect plaque; with our special tie-less brackets, dental hygiene is simple and effective. We offer both metal and clear brackets to accommodate all of our patients' needs. Damon braces are an excellent choice for children, teenagers, and adults. For more information on Damon braces, we invite you to contact us soon at All Kids Dental Pediatrics & Orthodontics.
---
Damon™ System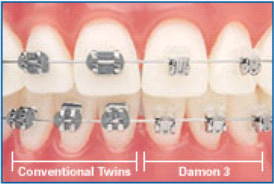 The Damon™ System provides superior comfort while gently stimulating healthy tooth movement. Low forces are used throughout all phases of the treatment with this completely "passive appliance system."
This system consists of a unique passive channel that permits low forces to work in conjunction with the muscles of the face, tongue, bone and tissue. The bracket utilizes a specialized "frictionless" clip to hold the wire instead of rubber ties which produce friction and require heavier forces to move the teeth. Low forces minimize discomfort and greatly increase the types of cases that can be treated without resorting to high force expansion or extractions.
The Damon™ System produces significantly less friction than conventional appliances and less discomfort with quicker results. So, you may have fewer office visits – perhaps half as many as with traditional systems.